Ansgar Brink RAUN
Født: 7 April 1920, St.Paul, Ramsey Minnesota, USA 126
Død: 19 December 2015, Bloomington, Minnesota, USA i en alder af 95 år
Begravet: 29 December 2015, Fort Snelling National Cemetery, Minnapolis, Minesota, USA


Generelle notater:
NAMR "Hank"



Begivenheder i hans liv: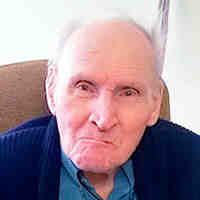 • Nekrolog, 26 December 2015. Raun, Ansgar "Hank" age 95 of Blommington, MN passed away on December 19, 2015, Lifelong member of St Peder's Lutheran Church. Hank was a WWII U.S. Navy Vet. Preceded in death by loving wife of 54 years, Pearl; son Stehphen Craig; daughter, Lynda Kay; Parrents, Holger and Marie; brother, Holger; sisters, Margaret and Marie. Survived by daughter, Joy Jean Baker; sons, James, Gary, and Kevin (Beverly); 6 grandchildren; 4 great-grandchildren. Funeral service Tursday, December 29, 11 am at St. Peder's Lutheran Church 46000 East 42nd Street Minnapolis, MN. Visitation one hour prior to service at church. Interment Fort Snelling National Cemetery. Thank you to the staff og Metodist Hospice, Minneapolis. MN.

Ansgar blev gift med Pearl Mae ANDERSEN.